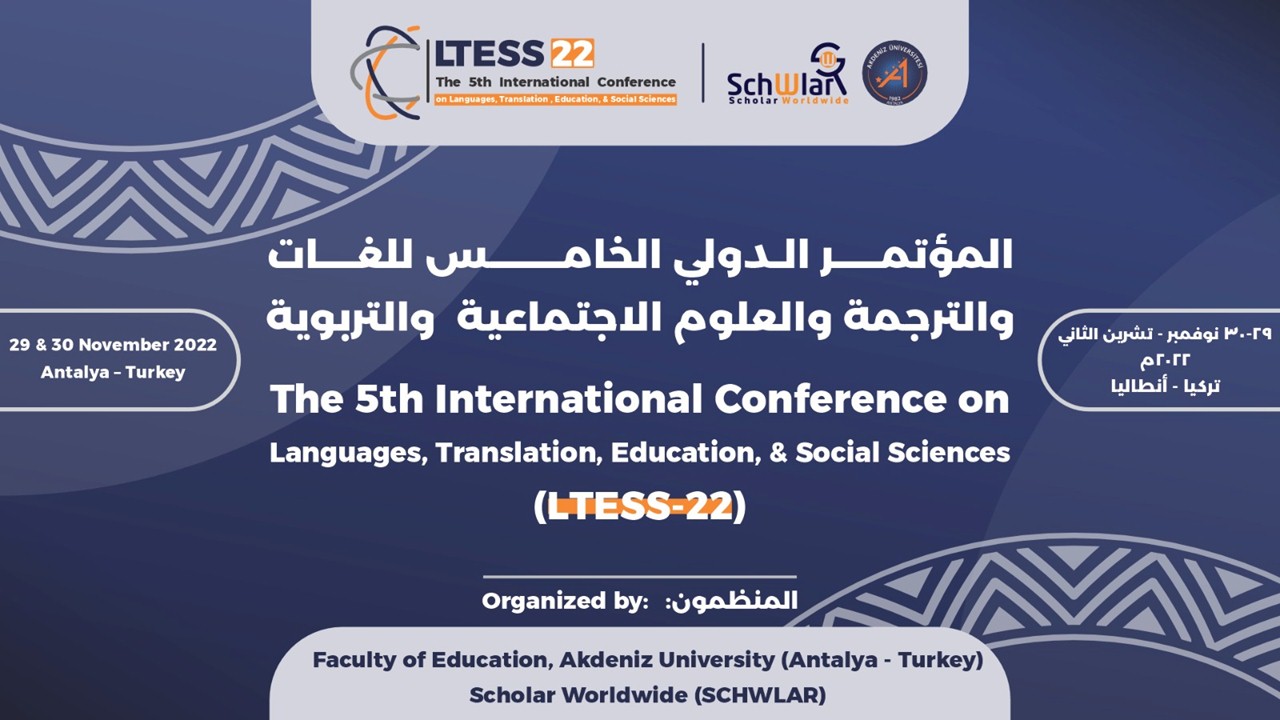 Organized by
 Akdeniz University- Turkey & Scholar Worldwide (Schwlar)
Conference Date:
 29-30 November 2022
Deadline for submission:
  25 October 2022
Venue:
 Innvista Hotel
Keynote Speaker:
Rector:
Prof. Dr. Hilmi Demirkaya Dean Of Education faculty Akdeniz University Chairman 
The 5th International Conference on Languages, Translation, Education, & Social Sciences
(LTESS-22)
A Call for Academics, Researchers,
 University Professors, & Scholars
Prof. Dr. Hilmi Demirkaya

Dean Of Education faculty Akdeniz University

Chairman  Conference

Assoc. Prof. Dr. Murad Al Abdulla (CEO)

Scholar Worldwide (Schwlar)

Doç.Dr. Mustafa Caner

Education faculty Akdeniz University

Vice- Chairman Conference   

Ilker OzCcelik (Ph.D)

Suleyman Demirel University

Head of Scientific Committee

Othman Atiyah Ismael (Ph.D)

Scholar Worldwide (Schwlar)

Head of Organizational Committee
Conference Abstract
Scholar Worldwide (Schwlar) for research, studies & global academics cordially invites you to participate in The 5th International Conference on Languages, Translation, Education, & Social Sciences(LTESS-22) in Antalya, Turkey. Researchers, academics, and scholars from around the world are welcome to present their researches or research proposals in this upcoming conference (LTESS-22), which will be held in In collaboration with Education faculty Akdeniz University, Antalya on 29-30 November 2022.
 Objectives
(LTESS-22) aims to:
To highlight the harmonious relationship between (political science, law, media and international relations) and other applied and social sciences.
Making intellectual and theoretical contributions in the field of study of the four social sciences.
Linking the four social sciences with issues of daily life, societies and peoples.
Realizing the importance of social sciences in exploring the depths of contemporary problems and crises and finding practical and constructive solutions.
Linking the different social sciences with technology and virtual world.
Discussing scientific methodologies and theoretical frameworks within the four academic sciences
Developing insightful scenarios for the future.
Creating research and academic partnerships between Arab and non-Arab researchers.
Providing a high scientific program for academics, researchers, postgraduate students from all over the world. The conference agenda includes a variety of majors and specializations that meet in one place to exchange scientific research topics with experts.
Promoting international relations between countries of Europe, the United States, the Middle East, East Asia, and China by making Turkey the meeting point for researchers in East and West.
Creating a scientific environment to display the recent inventions and see what scientists and researchers from other universities reach in the academic fields and in the contemporary methods of teaching.
Engaging graduate students in such a conference to enhance their values of creativity and research and to strengthen their confidence through competition and invention and to encourage them to work as a one soul universal team.
Exchanging ideas and experiences between participants from different universities, and research units in the world, which leads to establish strong international relations between researchers through our institution that aims for more cooperation in the future.
Facilities for Researchers:
The organizing committee of the conference will provide all the facilities for researchers including:
Submitted papers will undergo a thorough evaluation by the conference scientific Committee.
Selected papers will be published in international refereed scientific journals after a double-blind review of the journal.
Researches and proposals will be collected and published in Proceedings online and in print
The Conference Organizing Committee will provide the participants with accredited certification approved by Education faculty Akdeniz University, Antalya & Scholar Worldwide (SCHWLAR).
The Conference Organizing Committee will be responsible for fulfilling all the services that will accompany the convening of the conference, from organizing scientific conference sessions according to general specialization, as well as refreshments during breaks, in addition to providing lunch and dinner meals throughout the days of the conference.
A certificate of participation/attendance will be provided to the participants who have presented a research paper or proposal.
The Conference Organizing Committee will designate a reputable hotel for four nights-five days along with two-way transportation from the airport to the hotel. (check-in date: 28 November 2021, and check-out date: 1 December 2022.).
Training workshop will be provided to all participants along with a training certification.
Conference Tracks
The Conference Organizing Committee invites researchers and academics from different countries around the world to submit their research papers or proposals according to the themes provided by the conference topics, as the conference management welcomes the participants interested in the given topics to attend the conference, starting from the main objectives, the conference sessions will discuss a variety of themes that include the following fields of specialty:
Track 1: Translation studies.
Track 2: Languages.
Track 3: Social and human sciences
Track 4: Educational and communication studies
Track 5: Turkish Language And Literature.
Track 6: Information Systems.
Track 7: Business and Management Studies.
Track 8: Civic and Political Studies.
Track 9: Cultural & Global Studies.
Track10: Economics,Finance and accounting.
Track11: Islamic Studies.
Track12: E-Learning studies.
Track13: Sociology.
Track14: Knowledge and information society.
Track15: History.
Track16: Geographic.
Track17: Accreditation and quality
Track18: Kindergarten & childhood.
Track19: Gender.
Track20: Psychology.
Track21: Arts
Track22: Autism.
Track22: Fine Arts.
Track23: Philosophy
Track24: German Language And Literature
Track25: History Of Art
Track26: Ancient Languages ​​And Cultures
Track27: Russian Language And Literature
Track28: Archaeology
Track29: English Language And Literature
Important Dates
| | |
| --- | --- |
| Announcement of the Conference |  5th  September 2022 |
| Deadline for Abstract Submission |  25 October 2022 |
| Deadline for Full Paper Submission |  31 December 2022 |
| The Conference Date | 29-30 November 2022 |
Applicants will be notified of the result of the research submitted to the conference committee within a period of two weeks from the date on which the abstract is received.
Participation & Publishing Conditions
The research must belong to any of the conference research topics.
The research must not be previously published in scientific magazines or submitted to any previous conferences.
Research papers must be submitted according to the conference template in both Arabic & English languages.
Research papers must be written according to the scientific & academic style.
Research papers are to be sent right after the conference is held to be for further review by the scientific committee and later publication in the scientific magazine.
Research papers must not exceed 20 pages, A4 form, including appendices and references.
Research papers must be written in WORD document:
For Arabic Papers: Simplified Arabic, font size 14, margin size 11
For English\Turkish Papers: Times New Roman, font size 12, margin size 10, page dimension 2.5 cm, 3cm from the right side References must be written according to APA style.
Abstract Submission
Research abstracts are to be submitted on SCHWLAR official website, using the submission form in the link below:
www.schwlar.com
Contact Info
 
LTSS-22@schwlar.com
For more Information, please contact us via:
+9647708858195    (Arabic)

+964771 3547132    (English)

+905528016109      (Turkey)

+972594962253      (Palestine)

+213670273433      (Algeria)

+201288283572      (Egypt)

+96181893676         (Lebanon)

+601116278599       (Malaysia)

+9647708858195    (Iraq)

+998 907094477     (Uzbekistan)

+2347035002859   (Nigeria)

+48 664 418 842     (Poland)

+919101511909        (India)

+96894873666        (Oman)

+62 819-9900-6924(Indonesia)

+00962791522838  (Jordan)

+963 933 594 849   (Syria)

+971563326201        (UAE)

 
www.schwlar.com

 

Conference Languages
Arabic, Turkish, English