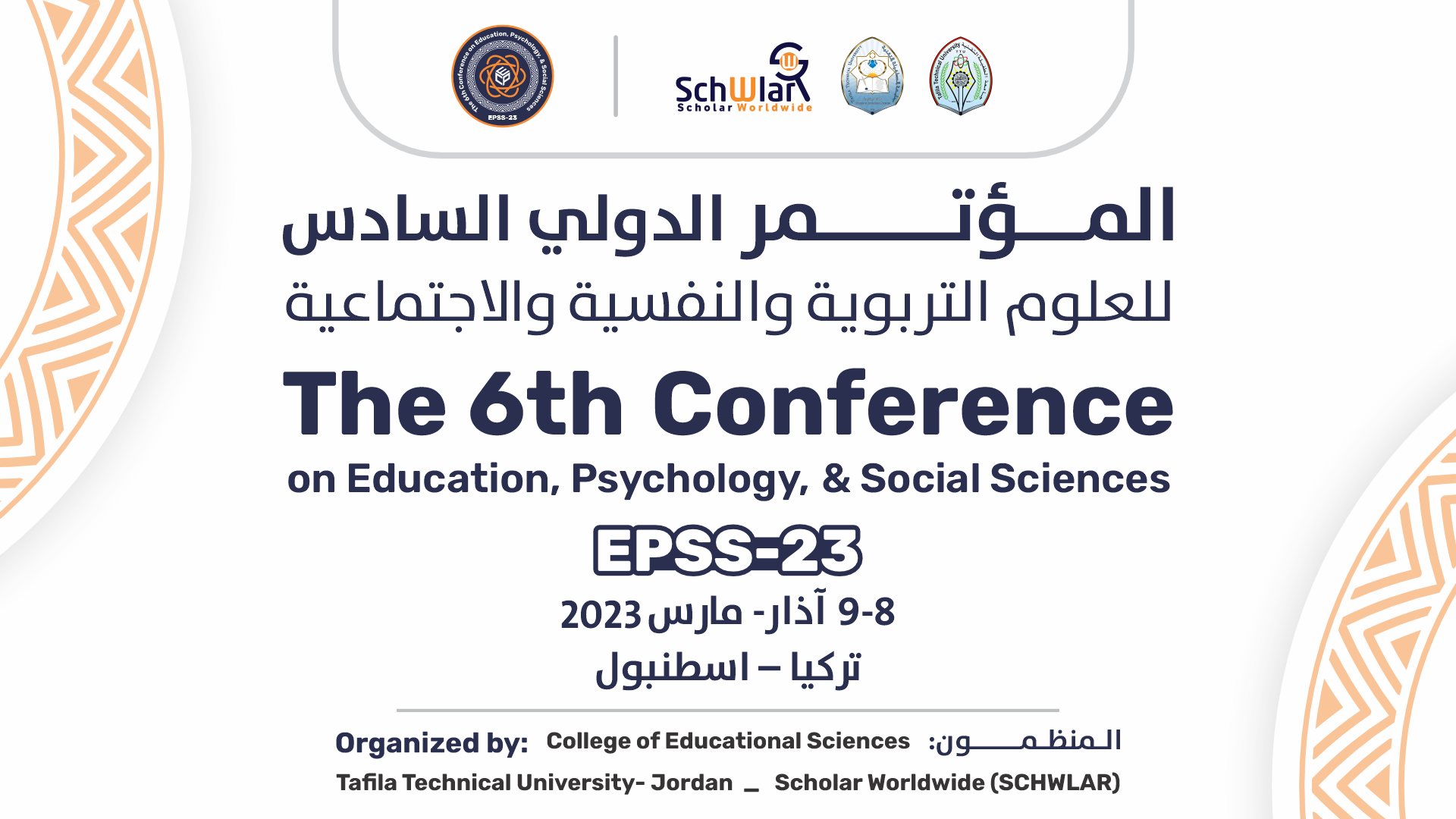 Organized by
 Faculty of Education-Tafila Technical University- Jordan &   Scholar Worldwide (SCHWLAR)
Conference Date:
 March 8th -9th, 2023
Deadline for submission:
 February 10th, 2023
Venue:
 Istanbul, Turkey
Keynote Speaker:
 Ali Mishari, PH.D
Rector:
Prof. Dr. Omar Nawaf Al-Maaytah
 The 6th International Conference on Education,
Psychology & Social Sciences
 (ICEPS-23)
March 8-9th, 2023, Istanbul, Turkey
Organized by
Faculty of Education-Tafila Technical University- Jordan &
  Scholar Worldwide (SCHWLAR)
Prof. Dr. Omar Nawaf Al-Maaytah

President of Tafila Technical University

Conference Chairman

Assoc. Prof. Dr. Murad Al Abdulla (CEO)

Scholar Worldwide (Schwlar)

Prof. Dr. Ahmed Al-Qara'a

Conference Vice- Chairman

Dean of College of Educational Sciences

Assoc. Prof. Dr. Najeeb Abbas Al-Sammarraie

Schwlar

Head of Scientific Committee

  Jumana Basheer Abu Rumman (Ph.D)

Head of Organizational Committee

Assist. Prof. Intissar Abo Najm

Director of External Relations
To academics, researchers and university professors from different countries of the world…
 Conference Abstract:
The massive development in the fields of science and educational, psychological and social studies has become a necessity for everyone to face the new challenges. Any change demands the concerted efforts of those in charge of the educational system to provide a well-studied strategy  derived from an educational, psychological and social vision, that urges to keep pace with progress and modernity, and is interested in creativity and excellence and at the same time does not lose sight of originality and commitment to cultural identity, and  finally contributes to the analysis and solution of many psychological and social problems and crises.
Accordingly, this conference, organized by Tafila Technical University and the Scholar worldwide (Schwlar), came to attract creative cognition within the framework of social responsibility, to  identify strategic visions, and effective approaches to educational, psychological and social reform in the light of the era developments, to achieve the desired modernity and refine it in line with originality and cultural identity, thus building a generation equipped  with useful science, creative thought, and the controlling conscience of human behavior.
 Tafila Technical University –  Faculty of Educational Sciences – Jordan, and the Scholar worldwide (Schwlar) who are originally interested in academic affairs around the world, invite you to participate in its sixth international conference, which will include a large group of researchers and academics from different countries of the world by presenting completed research, research proposals and working papers for the sixth international conference:    The Sixth International Conference on Educational, Psychological and Social Sciences (ICEPS-23) that will be held on the 8th & 9th of  March 2023 in Istanbul, Turkey.
Conference Objectives:
Based   on the recommendations of the Fifth International Conference held in cooperation with Akdeniz University / Faculty of Education – Antalya / Turkey on the 29th & 30th of November,2022 in Antalya, the ICEPS-23 conference aims to:
Stand on the latest studies and research in the educational, psychological and social fields
Monitor contemporary local and international experiences in the educational, psychological and social fields.
Highlight the role of technologies and information technology in the educational, psychological and social fields.
Present original ideas capable of bringing about development in the humanitarian fields.
Discuss issues facing the education system and its future aspirations.
Meet in one place for the purpose of exchanging scientific and research contributions and thematic topics with experts specialized in the academic scene all around one table.
Increase awareness to the Holy Quran because of its role in solving our contemporary problems by educating young people about the need to reflect on its meanings, and spreading the role of memorizing the Holy Quran.
Intensify historical studies on the Arab world and paying attention to historical documents and manuscripts, especially those related to the codification of the remaining Rahmaniyat in the hands of Oman's sailors, and rewriting the history of Africa with African personnel.
Develop the digital infrastructure in the higher education sector to ensure the quality of the educational sector and achieve educational governance.
Encourage strategic thinking, establishing a unit for creativity and innovation, appreciating strategic plans, especially in the banking sector, and developing managers' skills in project management in accordance with international standards.
Call for the redrafting of constitutions in the Arab world to ensure their development and achieve a balance between the legislative and executive powers, especially with regard to the Iraqi study.
Call for the unification of personal status laws in the Arab world in accordance with Islamic law, especially what achieves the unity of personal status law in the State of Palestine.
Strength research links to keep abreast of the latest developments in psychology, sociology and translation.
Call to educational, religious and media institutions to raise community awareness, especially young people and adolescents, to focus on the seriousness and harms of narcotic substances.
Bring attention to reviewing translations and revisions in multiple stages to ensure that applied terminology is used through digital or simultaneous translations or interpretation.
Benefit from the modern critical lesson in linking Arab critical frameworks with intellectual and philosophical buildings, and invite those interested in critical studies to re-read the critical heritage, not to be viewed as a complete structure that needs to be measured, but to benefit from it and complement it in the light of the latest contemporary critical investigations and theories, especially the theory of intertextuality.
Involve potentials of the youth & graduate students by empowering their research and creative values, enhancing self-confidence, developing the spirit of competition and innovation, and encouraging teamwork to overcome all geographical borders.
The main  objective of ICEPS-23 is to give the opportunity to participants from different countries around the world to exchange ideas and experiences with their colleagues who will participate from different universities , as well as the conference is expected  to assist in the  establishment of an international association of researchers directly linked to our institution, in order to maintain communication and exchange of ideas.
Conference Themes:
We invite researchers and academics from different countries of the world to submit their research papers and abstracts in alignment with the conference themes, and  we also encourage those who share interest in these topics and participants without research paper to attend the activities of this conference, and based on its main objectives, the conference sessions will address many themes, as they include the following disciplines::
Psychology

-Modern theories and trends in psychology and their educational applications.

-Modern theories and trends in sociology and their educational applications.

-The role of modern counseling and psychological services in the educational process.

-Measurement and evaluation in ensuring the quality of education.

-Mental health, motivation and tendencies and their effects on teaching and learning

Special Education:

-Modern methods in diagnosing and measuring people with special needs.

-Preparing the special education teacher in the light of modern trends.

-Modern methods of teaching people with special needs.

-Recent trends about the inclusion of people with special needs.

-Theoretical and applied developments in special education.

Early childhood:

-Research developments and educational theories in early childhood.

-Modern methods and practices that contribute to the training and development of early childhood teachers.

-Early childhood counseling programs in light of contemporary changes.

-Modern teaching strategies for early childhood.

 

Physical Education and Movement Sciences:

-Research Developments and Theories in Physical Education

-Modern trends of school sports

-Modern teaching strategies in physical education

-Modern Sports Training Programs

-Recent trends in the development of sports performance

-Empowering women in sports.

Educational Leadership and Pedagogy:

 

-The leading role in facing challenges and dealing with recent changes in educational institutions.

-Criteria for selecting educational leaders in light of modern administrative trends.

-Modern administrative trends in the development of educational policy.

-Modern strategies in education management and evaluation.

-Islamic identity and its educational requirements in the light of modern trends.

-Recent trends in teacher-preparation and professional development.

-Contemporary intellectual and cultural challenges facing educational institutions.

Curricula and Teaching Methods:

-Contemporary trends in curriculum development and construction.

-Modern teaching methods and methods.

-Analysis and evaluation of the curriculum.

-The reality of curricula and teaching methods and their future prospects.

-Theoretical and applied developments in curricula and teaching methods.

Educational Technologies:

-Modern strategies in technical education.

-Modern trends in the preparation and design of educational means and technologies.

-The technical revolution and its educational prospects.

-Modern technological applications.

-Distance education

-Learning Resources and Information Containers.
Conference Themes:
Arabic Language and Linguistics
English Language
Translation Studies and Arts
Sociology
Teaching Arabic and other languages to non-native speakers
Educational Psychology
Literature and Criticism
Information and Communication Science Technologies
Pedagogy and education
History and Archaeology
Studies in Islamic Sciences and Comparative Religions
Press & Visual Media

Economics and Accounting

Banking & Finance

General Administration and Leadership Skills

Political and Legal Sciences

Investigative science and manuscript study

Quality and Sustainable Development

Information Management and Electronic Systems

Contemporary Digital Studies for People with Special Needs

Technology and its employment in the social sciences

Applied Arts and Design

Film, theater and television

Studies in Education Curricula

Recent trends in e-learning

Public health and methods of prevention of infectious diseases

Artificial intelligence & its applications in educational sciences

Investment & Entrepreneurship
Modern Training Arts and Human Development
Geography and Information Systems

Developing innovation and creativity and encouraging

Talent

Library and Digital Information Management

Philosophy and intellectual culture
Important Dates:
February 10th, 2023

deadline for submitting abstracts

February 25th, 2023

Deadline for Abstract Presentations

(PPT format)

March 8th -9th, 2023

Conference Event

March 9th, 2023

Running Online Sessions (ZOOM)

          April 31st, 2023

Deadline for full research submission
Researchers will receive a report on the abstract supported by the evaluation of the scientific committee of the conference one week after the real time of the abstract submission.
Conference Participation Fees:
Research Participation fee is $250 only.
An amount of $100 is added for each second research or research paper submitted by the same researcher.
The participation fee for attending the conference only -with no research paper- is $ 200.
Research participation fee – remotely- via Zoom exclusively is $ 200.
A second researcher participation fee -attending a  joint research- is $ 200
All above fees do not include hotel accommodation.
 Note: The fees will be sent after accepting the research summary, and information of transferring the conference fees will be sent via e-mail. An acceptance letter will be sent to the researcher, with the need to send the transfer notice to the conference email or via the conference's WhatsApp number, and then researcher is provided with a receipt.
Attendance fees include the following:
Serving meals (lunch), with (coffee break) refreshments, tea and coffee during conference sessions.
The conference bag includes the conference curriculum in addition to certificates of participation and attendance.
Holding a dialogue session or workshop on the sidelines of the conference, in which participation is optional, and the participant is granted an international participation certificate.
Publication in refereed journals that sponsor the conference.
Providing the journal (Scopus) to publish the participating research, and the publication in it will be optional, and the publication fees will be separate from the participation fees in the conference.
The conference issued an international number (ISBN: 978-9922-9838-3-7) in which complete research is published for those who wish to publish it.
Conference fees do not include air tickets, visa fees, or hotel accommodation
Zoom subscription fees include the following:
The need to deliver the research via ZOOM platform exclusively using a unified presentation template (PPT Template) designed by the conference management, keeping the essential Netiquettes of keeping Cams & audio on while presenting with no consent of any session recordings.
All participants via ZOOM would receive a certificate of participation in the conference.
Conference sessions via Zoom undergo a different schedule & curriculum, separated from F2F sessions.
Requirements of participation and publication in the Abstract book:
The research shall belong to one of the themes of the conference.
The research must not have been previously published in scientific journals or presented in previous conferences.
Submit the research abstract in accordance with the abstract template of the conference.
Attach a copy of the brief CV with a recent personal photo with high resolution.
The research submitted to participate in the conference must be committed to scientific and academic methodology.
The full research is sent after the conference for the purpose of publishing it in the refereed scientific journal after it is subject to arbitration by the scientific committee of the journal and the conference management is zero-responsible in case of rejection.
The number of research pages should not exceed 25 pages in A4 size, including appendices and a list of sources and references.
The research is written in (MS Word Document) in (Simplified Arabic), font size 14. Arabic written research will be written in Time New Roman font, size 12 in the body and 10 in the margin while for English written research, the dimensions of the page are 2.5 cm, except for the right side 3 cm. Multi line spacing 0.7
Margins are APA recorded.
All submitted research is subject to the electronic plagiarism system (Turnitin) and the lowest plagiarism rate must be 20%.
The research papers that the researchers are willing to publish in one of the journals sponsoring the conference are subject to the terms and rules of publication of the journal, which are published separately.
Conference Languages:
Research is accepted in the following languages: Arabic, English.
Receiving abstracts:
All research abstracts are sent through SCHWLAR website according to the form designated for abstracts, and access to fill it out is through the link below:
Contact Us
 
www.schwlar.com

 

ICEPS-23@schwlar.com  

 
+9647708858195     (Arabic(

+964771 3547132    (English)

+905528016109       (Turkey)

+972594962253       (Palestaine)

+213670273433       (Algeria)

+201288283572       (Egypt)

+971563326201       (Lebanon + UAE )

+601116278599       (Malysia)

+9647708858195     (Iraq(

+998 907094477      (Uzbekistan)

+2347035002859     (Nigeria)

+48 664 418 842      (Poland)

+919101511909       (India)

+96894873666         (Oman)

+62 819-9900-6924 (Indonesia)

+00962791522838    (Jordan)

+963 933 594 849    (Syria)

 

 
www.schwlar.com