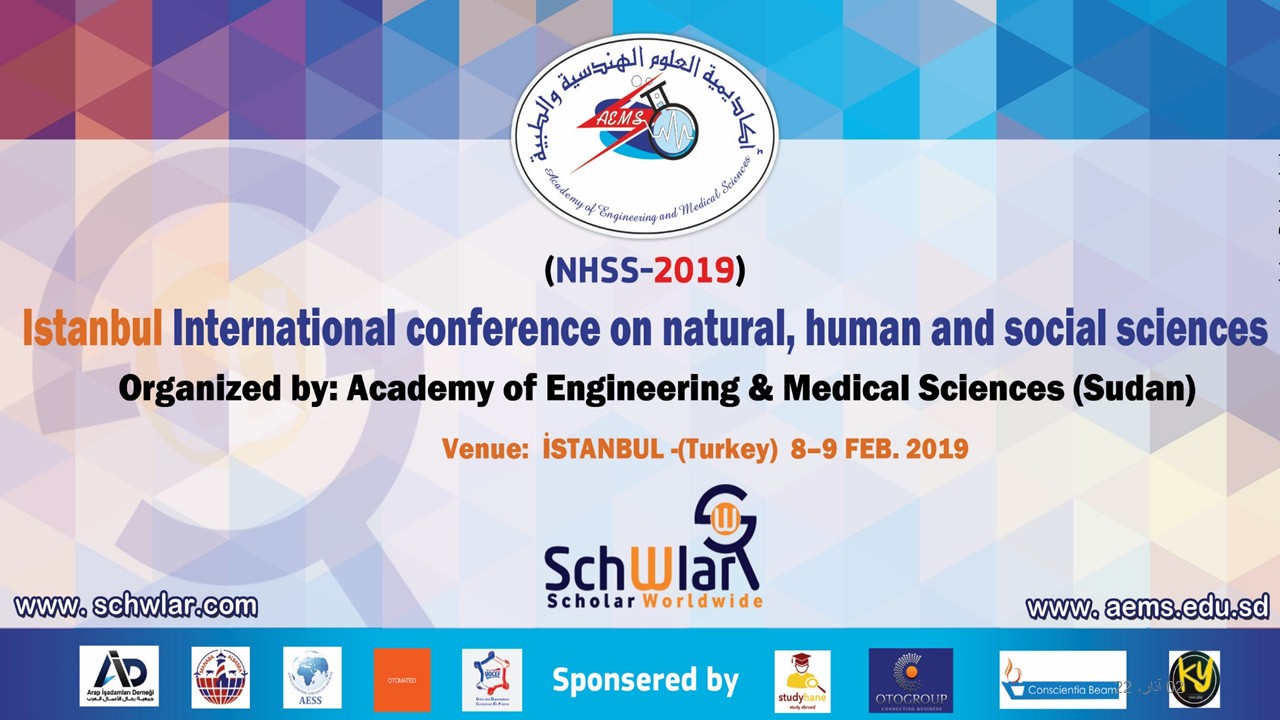 Organized by
 Academy of Engineering & Medical Sciences (Sudan) & Schwlar Worldwide (India)
Conference Date:
 8 – 9 FEB. 2019
Deadline for submission:
 10 Jan. 2019
Venue:
 Turkey- Istanbul
Keynote Speaker:
 Prof. Dr. Mohamed A. Basher
Rector:
N/A
  Istanbul International conference on natural, human and social sciences
(NHSS-2019)
The ((NHSS-2019)) aims to bring together Scholars, researchers and postgraduate students from all over the world to present their proposals and full researches. The conference will accept papers written in English, Turkish and Arabic. International Conference on Multidisciplinary on Human and Social Science Researches is dedicated to the promotion and presentation of peer-reviewed research. The three-day conference aims at building a bridge for the participants to exchange their knowledge and ideas. All interested academics are invited to submit their proposals, full-length papers, case studies or special session proposals via nhs2019@aems.edu.sd Topics in all areas relating to
Track 1: social and human sciences
Track 2: accreditation and quality
Track 3: knowledge and information society.
Track 4 Information System.
Track 5: Arts
Track 6: Educational and communication studies
Track 7: Business and Management Studies
Track 8: Civic and Political Studies
Track 9: Cultural & Global Studies
Track 10: Economics, Finance, and accounting
Track 11: Natural Sciences
Papers must be original and unpublished. All papers will be blind-reviewed by the distinguished Review Board members. High-quality papers and best presentation will be acknowledged by the conference organizing committee. GOALS: The (ICHS-2019) aims to:
Provide a high scientific program for academics, researchers, graduate students from all over the world. The conference agenda includes a variety of majors and specializations that meet in one place to exchange scientific research topics with experts.
Promote international relations between countries of East Asia, China, Middle East, Europe, and the United States by making Istanbul the meeting point for researchers in East and West.
Create a scientific environment to display the recent inventions and see what scientists and researchers from other universities reach in the academic fields and in the contemporary methods of teaching. Engage graduate students in such conference to enhance their values of creativity and research and to strengthen their confidence through competition and invention and to encourage them to work as a one soul universal team.
Exchange ideas and experiences between participants from different universities in the world, which leads to establish strong international relations between researchers through our institution that aims for more cooperation in the future.
Facilities for Researchers: The management of the conference will present all the facilities for researches including:
All sent researches to the conference will be submitted to the scientific committee for scientific evaluation. All participated researches will be published in an authentic scientific journal after evaluation. A conference handbook will be published afterward to include all conference events and a summary of the accepted researches.
Certificates of participation will be given to the participants from SCHWLAR management and will be accredited by Academy of Engineering Sciences (Sudan)
Conference management will provide all services needed to hold a conference such as organizing conference sessions, providing refreshments during sessions, breaks, and lunch.
The conference management will nominate a number of hotels with lower prices along with transportation from the hotel to the university and vice versa. The announcement about the hotels will be made in three weeks before the conference to give the researchers enough time to reserve the hotel. The management of the conference will not be responsible for paying the residency fees.
Certificate of attendance will be given to participants who did not submit a research.
| | | |
| --- | --- | --- |
| CONTACT US: |   | REGISTRATION FEES |
| +964 770 885 8195 (Arabic) |   | 250 USD (early bird registration before 10 Nov. 2019 |
| +964 771 354 7132 (English) |   | 300 USD (for payment made after 11 Nov. 2019 |
| +90 537 877 4857 (Turkish) |   | 50 USD (for any additional paper & presentation) |
| For submission Abstact & Full pepers please send to E-mail: |   | 150 USD (for all postgraduate students ,A confirmation letter is requested from students) |
| nhs2019@aems.edu.sd                                              |   | 150 USD (Attendance only) |
|   |   | 400 TRY (for local participants) |