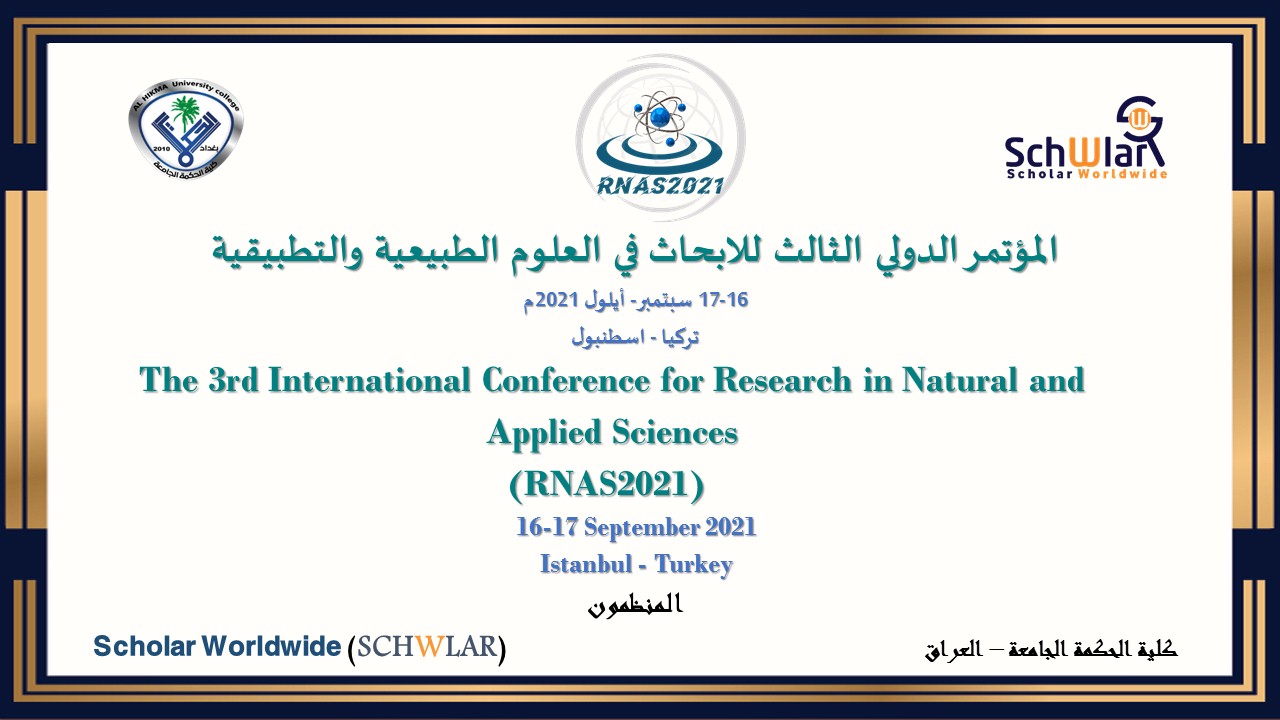 Organized by:
 Alhikma University-Iraq  & Scholar Worldwide (Schwalr)
Conference Date:
 16 -17 September 2021
Deadline for submission:
 15 August 2021
Venue:
 Istanbul, la-Quinta- Hotel.
Keynote Speaker:
 Prof. Ahmed Mohammed Salih, (Ph.D.) Vice Chancellor of Duhok University
Rector:
Mahmood Habib Shalal, Ph.D President of Conference Chairman
The 3rd International Conference for Research in Natural and Applied Sciences
(RNAS2021)
Mahmood Habib Shalal, Ph.D

President of Conference

Chairman

Ahmed Saddam AbdlSaheb, Ph. D

Vice President

Murad Al Abdullah Ph.D

Scholar Worldwide (Schwlar)

Mohammad Ibrahim, Ph.D

Head of Scientific Committee

Othman Atiyah Ismael, Ph.D

Director of External Relations

Abdulrahman Al-Rahmani, Ph.D

Head of Organizational Committee

Najib Al-Sameraai, Ph. D

Ibrahim Najmeddine Abdullah, Ph.D

Mohamad Sadik Hussein, Ph.D

A. P. Intissar Abo Najm

Mohamad Ahmed Sobhi, Ph. D

P. Hewa Majeed Zankata

Saed Abdlaziz Saleh, Ph.D

Dr. Ilker Ozcelik,Ph.D

Russol Yaarub Hameed, Ph.D

P. Omar Faez

Mohamad Ahmed Hussein, Ph.D

Ms. Faten Yousef

Abdulrahman Taha Bedyowi, Ph.D

Baseem Al-edreesi
Call for Papers
Conference Abstract
Scholar Worldwide (Schwlar) for research, studies, & global academics cordially invites you to participate in the 3rd International Conference for Research in Natural and Applied Sciences, which will be hold a considerable variety of researchers and scholars from around the world, presenting conducted researches or research proposals at the same conference (RNAS2021), which will be held in collaboration with Alhikma University- Iraq on 16-17 September 2021.
Objectives: RNAS2021 aims to:
Provide a high scientific program for academics, researchers, postgraduate students from all over the world. The conference agenda includes a variety of majors and specializations that meet in one place to exchange scientific research topics with experts.
Promote international relations between countries of East Asia, China, the Middle East, Europe, and United States by making Turkey the meeting point for researchers in East and West.
Create a scientific environment to display the recent inventions and see what scientists and researchers from other universities reach in the academic fields and in the contemporary methods of teaching.
Engage graduate students in such a conference to enhance their values of creativity and research and to strengthen their confidence through competition and invention and to encourage them to work as a one soul universal team.
Exchange ideas and experiences between participants from different universities, and research units in the world, which leads to establish strong international relations between researchers through our institution that aims for more cooperation in the future.
Facilities for Researchers:
The management of the conference will provide all the facilities for researches including:
All sent papers to the conference management will be submitted to the scientific committee for thorough evaluation.
All presented papers would be published in international refereed scientific journals after a double-blind review of the journal.
Researches and proposals will be collected and printed in a book as a hardware copy.
Conference management will provide the participants with accredited certification approved by Alhikma University & Scholar Worldwide (SCHWLAR).
The conference management will be responsible for fulfilling all the services that will accompany the convening of the conference, from organizing scientific conference sessions according to general specialization, as well as refreshments during breaks, in addition to providing lunch and dinner meals throughout the days of the conference.
A certificate of participation\ attendance will be given to the participants who haven't presented a research paper or proposal.
The conference management will designate a reputable hotel for four nights-five days along with transportation from the airport to the hotel and vice versa. (Check-in date 15 September 2021, and check-out date 19 September 2021).
Training workshop will be provided to all participants along with a training certification.
Conference Tracks
The conference management invites the researchers and academics from different countries around the world to submit their research papers or proposals according to the themes provided by the conference topics, as the conference management welcomes the participants interested in the given topics to attend the conference, starting from the main objectives, the conference sessions will discuss a variety of themes that include the following fields of specialty:
| | | | |
| --- | --- | --- | --- |
| Medical Sciences | Dental Sciences | Medical Technology Sciences | Health Institution Management |
| Engineering Sciences | Chemical Sciences | Physical Sciences | Biological Sciences |
| Information Technology Sciences | NANO Technology | Networking & Communication | Nursing & Medical Testing |
| Veterinary Medicine | Computer Engineering & Technologies | Psychological Health | Geology |
| Mathematics | Pharmaceutical Sciences | Agricultural Sciences | Artificial Intelligence |
Important Dates:
| | |
| --- | --- |
| Announcing the Conference | 15/ 4 /2021 |
| Deadline for Abstract Submission |  15/ 8 /2021 |
| Deadline for Complete Research Submission | 15/ 10 /2021 |
| The Conference Date | 16 -17 / 9/ 2021 |
Applicants will be notified to the result of the research submitted to the conference committee within a period of two weeks from the date on which the abstract is received.
· REGISTRATION FEES
400 USD (for participation).
300 USD (Attendance only).  
400 USD for the main Author, 350 USD for the Co-Author (for partnership paper).
100 USD (for any additional paper & presentation).   
350 USD (for all postgraduate students.  A confirmation letter is requested from students).
200 USD (for online participation)
200 USD (Poster Participation)
250 USD Escorts without attending the conference.

Contact Info Note:
Fees are to be sent after the approval of the research summary. The conferences fee transfer information will be sent via email followed by an acceptance letter to the researcher with the necessity to send the transfer notification to the conference email or via WhatsApp number. Upon that, the researcher would be provided with a payment receipt.
Conference Languages
Participation & Publishing Conditions
The research must belong to any of the conference research topics.
The researcher must not be previously published in scientific magazines or submitted to any previous conferences.
Research papers must be submitted according to the conference template in both Arabic & English languages.
Research papers must be written according to the scientific & academic style.
Research papers are to be send right after the conference is held to be for further review by the scientific committee and later publication in the scientific magazine.
Research papers must not exceed 20 pages, A4 form, including appendices and references.
Research papers must be written in WORD document:
For Arabic Papers: Simplified Arabic, font size 14, margin size 11
For English\Turkish Papers: Times New Roman, font size 12, margin size 10, page dimension 2.5 cm, 3cm from the right side
References must be written according to APA style.
432total visits,5visits today